Here's an interesting one… in two charts.
It may be the backstory to the imminent we all feel, that there seems to be a hidden center of pain being felt in some communities. One chart is of the rapidly increasing use of some very common terms for personal despair, measured by their frequency in English books scanned by Google.
The terms were picked for having curves "moving together as a group", and include 'love' as one of the linked terms. Dynamic changes moving and fluctuating together as these do means they are part of one conversation, one culture, one community, all becoming increasingly desperate over time, and acting as a whole. If we consider them to be indicators of societal distress, the increases are from 200% to 400%. Who IS experiencing all that pain, is the question?? What's happening??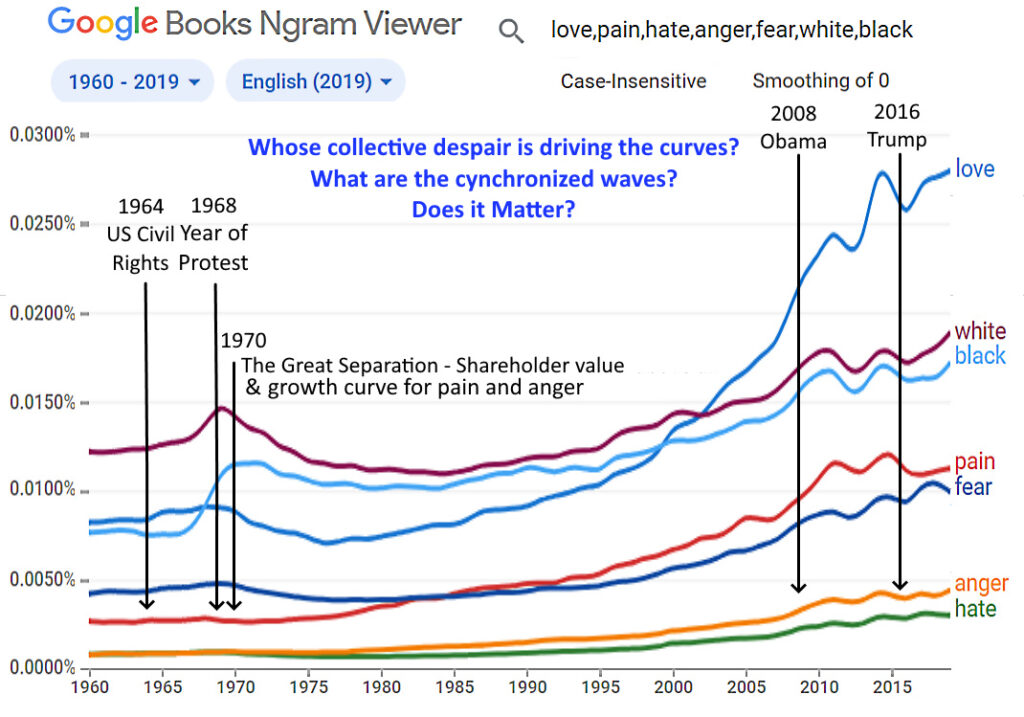 The other chart we know a little better. It's for the historic explosion of inequality in average US family incomes that began in ~1970. It represents an exploding loss of power for almost everyone, but oddly… seeming to MAKE US ALL AMONG THE POWERLESS. That growing inequality is connected with the imposition of shareholder value as the purpose of wealth, which has driven increasingly rapid disinvestment in skilled labor in an already very challenging productivity-driven society. A brief write-up is here: https://synapse9.com/signals/was-shareholder-value-what-did-it/
But the real questions are:
WHAT IS the unified culture most feeling this apparent explosion of pain?? How else could we show the connection between two dramatic changes in societal cultures we are in the middle of?? AND Would that tell us anything about how to relieve it??
AND OF COURSE:
Does it matter?? Are perhaps the big fluctuations since 2008 those of a boiling kettle ready to blow?? Are they instead indicating pressure relief, and now letting off steam?? Or something else??
AND:
Why is LOVE so regularly growing along with the pains?? Who is this really happening to, anyway?? Wouldn't it have to be a big enough cohesive group to move the average word uses of the entire language?? AND: why is it NOT the people that I know??
What do you think?
____________________________________
That's it. Just some interesting questions.
– Note: This also shows how useful a "natural systems method" of finding nature's stories in dynamic change can be. A new paper preprint on it is at: https://synapse9.com/_ISSS-22/MS-HNS1-Design&Steering.pdf.