The first recorded talk on it will help show the quandry:
– https://www.youtube.com/watch?v=hb4Ysah2ZzY
The Updated Slides:
– https://tinyurl.com/2s3skpxw,
The research behind all this:
– https://synapse9.com/signals
And the early draft proposal to the UN:
– https://tinyurl.com/FreshPlanFor-Steering
Natural growth is the beginning of life for all systems with life cycles like ours. There are a series of built-in transformation challenges, though. We all know life's a challenge, right? Nature has a tried and true path to success for the big one now approaching.
Upon approaching a new living system's limits to its first phase of growth (its explosion of new designs), they can either a) respond with a survival instinct and change their growth strategy or b) not. So far, humanity has not. The severity of crises now developing might change that, but only if a clear understanding of what to do widely spreads. We don't have that now, culturally, scientifically, or governmentally. Starts of it are only found in small, still ineffective, transformation movements.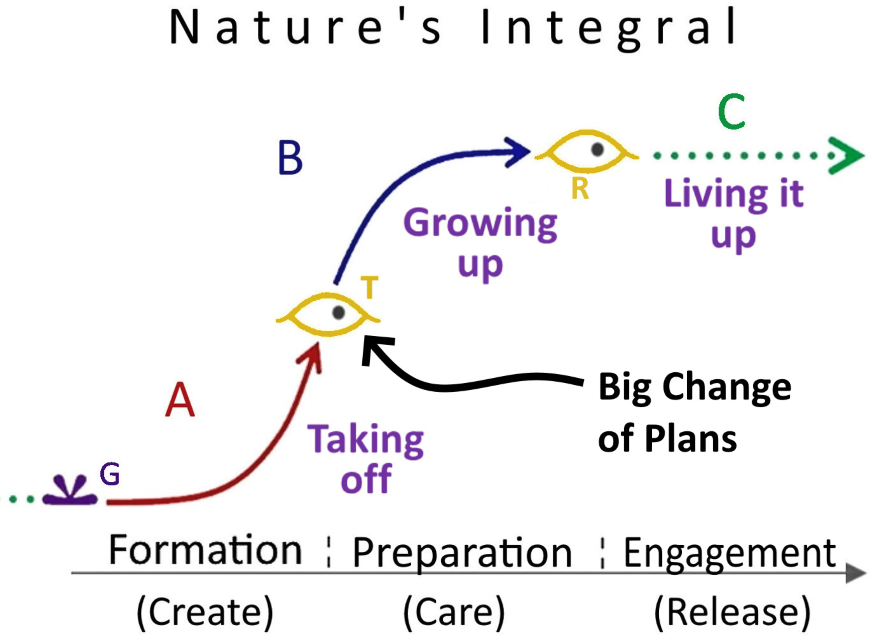 Nature can be very persuasive though, making it more and more clear where the needs to divest and invest really are. Whether it's cultural or financial, it is our investments in the future that steer where our lives go. So, it's a matter of putting our resources where they are now most needed. Today our power centers are still obsessed with multiplying their power over nature and society, which forces ever-increasing pressures and disruption in everyone's lives.
History offers several civilizations that have collapsed from their peak of power to leave cultural dark ages in their wake, evidently caught in following an MPP (maximum power principle) plan to the end. There are lots of others that achieved long and rich lives after their initial explosive growth, too, as people and lots of our plans also generally do. We have that challenge now, to find how to make the choice to end our growing power in a way that lets our world survive. This video linked above is the first of my talks on a fairly complete understanding of the problem and solution. Just read this and listen with an open mind, let the new questions register, and mull them over.
Unfortunately, I'm still tending to talk about what I find most fascinating about this crisis. I'm a scientist with a cool set of discoveries. It would be better if I focused mostly on what it would mean for those reading or listening!
What it is all for is to help people see why nature needs us to make better use of the world economy's profits: A) to finally fund real-world sustainability as it should be and B) to help people learn about how to shape and prepare for the new lives our future. Both changing to investing in the long-term future and clarifying how to do it will relieve the extreme economic pressure everyone is experiencing.
What makes that possible and important now is our now finally crossing the "inflection point" in growth (the breaking point in the initial rapid growth curve), and in either smooth or disruptive ways the world will soon face reality in a very new way. On the positive side, that would allow whole systems like ours to become capable of acting in unison! Also on the positive side, almost everyone on earth is skilled at making the same kind of transformation in their relationships, as well as work projects all the time. The cycle is from inspiration to multiplication, to facing reality in having to choose what to do.
Self-interests and common interests in saving the earth then coincide. If there are leaders who understand what the needs real needs are, the whole system will turn to taking care of itself and maximizing its long-term interests. That is also what happens at the birth of organisms, growth leading to facing the future, suddenly exposed to a new world to find their way in. There's much to learn when facing a new reality, but the first big change is less hurry for most parts of the system as the guiding principles of the system quickly change.
The shock of a new reality and big interruptions in plans, first relieve the pressure to change ever faster and by the whole system turning toward common purposes, that and getting to know what's happening without nearly so many blinders. We'll also need to understand the natural change to the heart of the economic system. We maximized the use of profits to multiply the system, even smoothly ending that is likely to be a shock. The values and needs for business and whole system profits will change from multiplying the system to caring for it.
Every kind of natural system starts with the same variation on accumulative explosive self-organization, getting started by an inspiration (awakening of new design) that captures energy to build more ways of capturing energy. We got stuck on it, though, in a very big way, over centuries developing expertise to continue it until suddenly by accident, quite blind to it really, threatening the habitability of the earth.
The grand surprise is that even that way of mindlessly pursuing and then having to rudely collide with self-destructive limits to that "limitless" explosive growth still does, from nature's menu of options, offers a very satisfying and graceful end goal of perfecting the design and our ways of life in a long-lasting way.