Guiding Patterns
of Naturally Occurring Design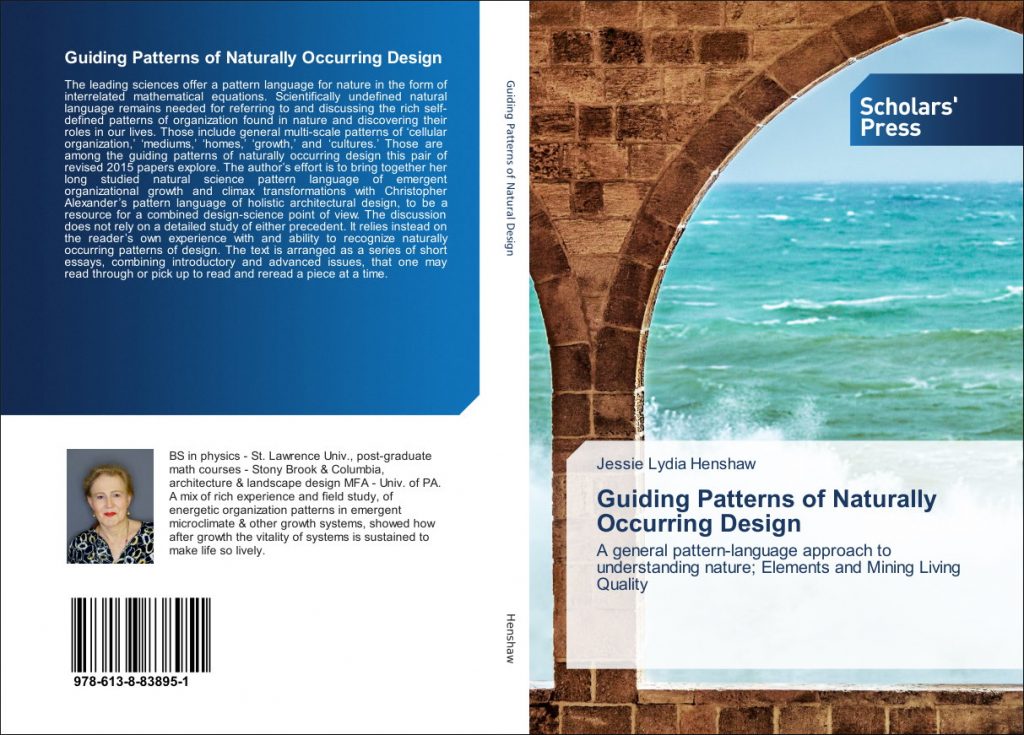 A new window on Pattern Languages
A new window on the working design patterns of nature.
1st Release Oct 1
from Amazon and MoreBooks
Blurb: The leading sciences offer a pattern language for nature in the form of interrelated mathematical equations. Scientifically undefined natural language remains needed for referring to and discussing the rich self-defined patterns of organization found in nature and discovering their roles in our lives. Those include general multi-scale patterns of 'cellular organization,' 'mediums,' 'homes,' 'growth,' and 'cultures,' and are among the guiding patterns of naturally occurring design this pair of revised 2015 papers explore.
The author's effort is to bring together her long studied natural science pattern language of emergent organizational growth and climax transformations with Christopher Alexander's pattern language of holistic architectural design, to be a resource for a combined design-science point of view. The discussion does not rely on a detailed study of either precedent. It relies instead on the reader's own experience with and ability to recognize naturally occurring patterns of design. The text is arranged as a series of short essays, combining introductory and advanced issues, that one may read through or pick up to read and reread a piece at a time.
Vita: – BS in physics – St. Lawrence Univ., post-graduate math courses – Stony Brook & Columbia, architecture & landscape design MFA – Univ. of PA. A mix of rich experience and field study of energetic patterns of organization in emergent microclimate & other growth systems, showing how after growth the vitality of systems is sustained to make life so lively.
Press contact – Rose@synapse9.com
__________________
…. One of the more curious things about nature is how obvious it is that every natural design develops by its own individual growth process, building up from an initial design pattern and emerging as a whole as it runs its course. That applies to a storm, a volcanic eruption, a lightning strike. It also applies to smaller scale life systems, such as for personal relationships or conversations, human or other plant or animal lives, civilizations, ecologies, and of course businesses and economies. The living systems for which growth is a holistic building process, preparing them for long lives after growth, all start by organizing and expanding faster and faster at first, and then shift gears to develop slower and slower, refining and coordinating their designs to climax when ready to begin their long lives ahead. It's a switch from scaling up the starting patterns to then take a sustaining role their environment.
… If that understanding, of how to succeed in life after growth, were to spread around the world, it could dramatically change our now doubtful future. Today our chances are compromised by our global inability to stop our ever growing our consumption, disruption, and confusion of life on earth, not knowing how to smoothly switch from the red to the blue curve, to get ready for a long life.