…. The distinct possibility is that, for the first time:
Science might soon be able to study all the objects of nature, in their innate form
not just the models we make based on what data is available…
______________________
In-depth Pattern Language Research
"Guiding patterns of naturally occurring design"
1) For PURPLSOC 2015: on "Elements"  (final for publication)
2) For PLoP 2015: on "Mining living quality" (meeting draft)
                                             ______________________
To recognize
Individual organizations,  Complex natural designs,  Emergent forms of naturally occurring design,

Evolving organization & behavior of complex whole systems, 

Discovering more and more of the hidden interior designs of lively whole systems…
One way of  introducing the "what" and "how" comes from a "pattern language approach" to the science of "naturally occurring systems", presented in a paper for PURPLSOC: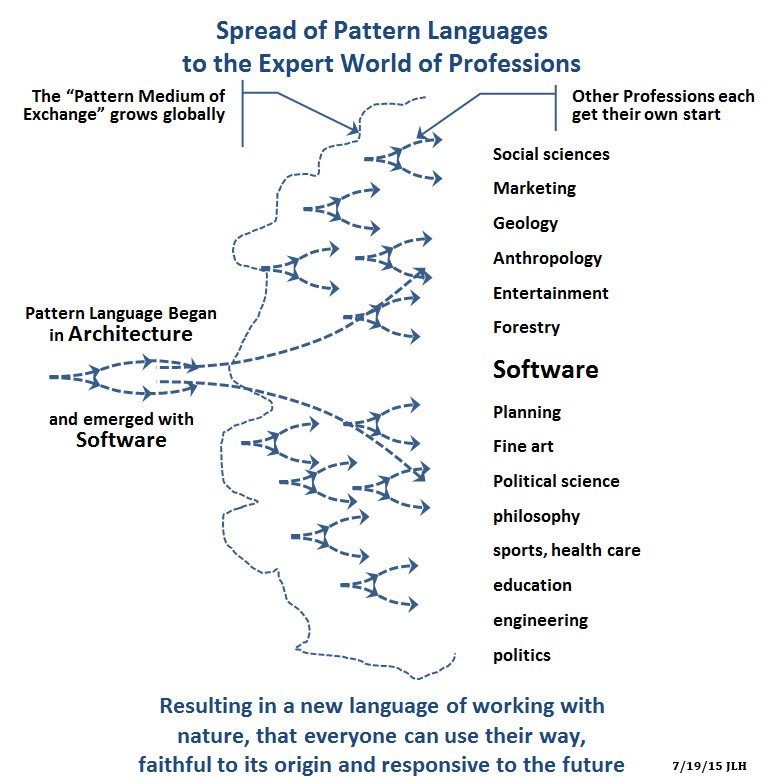 Guiding Patterns of Naturally Occurring Design: Elements
that I presented at the July 3-5 PURPLSOC pattern language research meeting in Krems Austria.  It was in a group of papers on pattern language as a general science; with papers by Helene Finidori, Helmut Leitner, Takashi Iba Et. All.; Christian Aspalter & Reinhard Bauer. (links to follow)
As an approach to working with natural systems "Guiding Patterns of Naturally Occurring Design: Elements" seems unprecedented in using a fully scientific method for focusing on the "objects of nature", using a pattern language approach to identify working complex relationships of natural designs, in their natural contexts, with nothing "held equal" or represented with models, a practical way to relate to the "things themselves", as "known unknowns".
The key is not to avoid data and models.  It's not to rely to heavily on them.   It's to just never use them to represent natural systems, but only to help you discover why naturally occurring systems and their complex designs are of real interest, and doing things quite different from theory.   It turns out that Christopher Alexander's pattern language, as a structured language for discussing holistic solutions, as designs for recurrent problems, has now evolved to let it jump from one profession to another.   So, if the branches remain connected to the root… it seems to make a good foundation for building a new language of science, one that doesn't replace nature with the abstractions of boundless theory.
The paper is a "sampler" of explorations of the topic, including an advanced "starter kit" of methods, terminology and examples, for how to use the patterns of natural design to guide efforts at intentional design and integrate with our world of natural systems.   It introduces a way of recognizing natural designs as 'objects' in nature, with their own individual boundaries, allowing separate discussion about what goes on inside and outside, and using pattern language (not abstract models) to make verifiable sense of it.  Identifying a boundary is what permits considering what goes in and out, and open up the use a traditional use of terms of physics and economics, for understanding the thermodynamics and the coupling between energy budgets and financial budgets, etc. for natural systems.   Based on that, it would appear to make a true "object oriented science" a practical possibility.
The original paper introducing this from a traditional biophysical scientific point of view, as "Whole Systems Energy Assessment" (5).   That paper can perhaps now be understood if interpreted from a pattern language viewpoint, as showing that shares of GDP measure shares of global impacts of delivering GDP…  The economic system does appear to work as a whole, and the effort to validate that seems to successfully result in a far more accurate, and far more actionable,  measure the impacts of our choices than efforts to directly trace economic impacts can produce.
For the translation of these and related natural system principles to the language of Alexander's "pattern language" for defining "object oriented" principles of holistic design see the 2015 "Guiding patterns of naturally occurring design" papers  for PURPLSOC (Pursuit of Pattern Language for Societal Change) (Jul 5 2015) (1) and PLoP  (Pattern Language of Programming)(Oct 23 2015) (2) and related slides and supplementary materials (3).   Also in the directory is a YouTube video link to the first 15 minutes of the slide narration, for the July 5 presentation of 'Elements', salvaged from a cell phone recording (4).
"Guiding patterns of naturally occurring design"
1) For PURPLSOC 2015: "Elements"  (final for publication)
2) For PLoP 2015: "Mining living quality" (final for publication)
3) Related materials: Resource directory 
4) 20 min. YouTube video excerpt of the July 5 talk –
5) "Whole Systems Energy Assessment (SEA)…" part of the physical systems science being translated into PL 
___________________
Need to update & add notes and discussion on both conferences….
It was really exciting to be part of, and to watch this new way of thinking emerge, PL as a whole system language for "designs of services" to balance and support
the traditional view of  science as a whole system language for "defined controls"
JLH  11/5/15