One of the fascinating scientific subjects I research is how human understanding comes from narrative. Without getting too technical, narratives about relationships, environments and culture change issues come from people "observing the flows" of the natural processes, the flows by which those changes in our world take place.  The basic starting point, then, is having some way to observe those flows.  No awareness of the flows, *no story*!

This is such an important thing for combating our alienation from the breakdown of traditional cultures, really all around the whole.   It's quite an unfortunate side effect of the great eruption of wealth in modern times, and the ever more intense global competition fostered by the world economy doing it.   A small part of how it disturbs our ability to tell stories about what's happening to us in yesterdays post What is a "rights" agenda, with ever increasing inequity?
Mining live stories from big data is way to build human understanding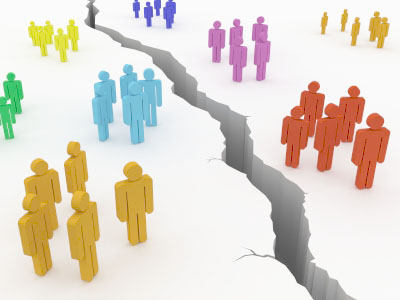 I ran across five wonderful examples this week alone, of ways to bridge the enormous cultural and intellectual divides the keep us from arriving at a common understanding of what to do with the earth.     My topic yesterday saw how an economy structured to produce both ever increasing complexity, inequity results in the breakdown of traditional cultures and ways of knowing, a loss of stories for giving our lives meaning.   Learning to see the problems can also be used to find solutions too, of course, the main one here perhaps just learning to see what we'er doing to ourselves.   The thought process leads to seeing what strategies are failing us is not so different from that used for discovering promising new ones.
One identifies where the cultures that guide us lose track of what's happening to them.   The other discovers exposes the flows of events in a way allowing us to create the new stories that will matter in our lives.   It's how all human rights are achieved, by recognizing them as the clear story that beings order to a disruptively changing world, recognizing how nature connects the dots, letting us frame not just "good stories" but also "true stories" about finding a sound new path.
The practicalities of recognizing "what's really happening" so we can use our values to fashion the stories telling us what to do will mostly not need a lot of big words and shiny promises.   You can do it with "big data", even if today its main use seems to be for controlling personal data to make growing amounts of money from deny people their individuality.  You can also us it to mine the data world to pick up clear signs of whole new cultures emerging you'd otherwise never be aware of, for example.   Having ways of visualizing the eventfulness of change globally, on many dimensions, would be a very *different* kind of "news feed", a true globally holistic "news feed".
Every community could study the eventful flows of changing relationships, personal, cultural, economic, ecological, that matter to it, rather than just listen to media largely composed of chattering entertainers and politicians after money and power.   If a way of mining data for signs of events could show people what's really happening to their world, and that became the the talk of the community, everyone could participate in shaping the news and the new stories about our human rights tell us to do.   It would give the media a real story to cover too.   The practical job to make that possible, though, is more like science than philosophy.     It's to learn to recognize that eventful change comes from the emergence of new forms of organization, that generally begin with a viral burst of development, that energize whole systems, altering the balance and roles withing their environments, like organisms that growth from a seed to build new natural capital or flame out.
Examples
1. –  Changes in Word Use – I am not an expert in semantic analysis, fundamental changes in word use, particularly if following a clear developmental pattern generally do indicate a change in the world of people and their way of speaking about it.    Developmental changes in word usage expose important cultural experiences of the people writing the text.   I've used comparisons of the Google histories of word frequencies obtained from scanned libraries of books, their "Ngram" tool. I've also used the histories of word use in magazines, newspapers and even Google Scholar, such as to identify
Along with the various other "story mining" methods discussed in the introduction to my scientific method for mining the stories of natural change processes, and method of interpreting them:
Learning to read the eventfulness of our world  –  People who have some personal experience with the environments in which these explosive changes took place, as eruptions of new organization for those worlds,  these documented records of the shapes of their stages of growth provide rich reminders and new challenges to imaging what was really going on to produce the new environments the created.
| | |
| --- | --- |
| Papers on "General Systems"(yellow), Papers and Citations for "General Systems Theory" (black & pink) | "Pop Corn" flurries of articles on sustainability as the subject emerged in the NY Times, and Accumulative trend |
| | |
| --- | --- |
| The 1990 beginning of the big eruption of mentions of Hip-Hop in the NY Times also coincided with the historic sharp decline in NYC crime rates, culture change as kids changed who they looked up to. | Use of "complex" followed  growing economic complexity up to ~1960, when we appear to have either lost interest or the ability to keep up, with the fast increasing complexity of our world. |
Today one might also use Twitter and other social media, and also collect data on product and book sales and lots of other sources.   Of course, the sources would vary considerably from country to country, but the method would be the same.   What's important is for the text or numeric data being scanned for "natural coupling" be "neutral" and not influenced by the subject being explored.
What might be possible, putting it all together, is to identify natural cells of social relationships and their interests, cultural "silos" of relationships identified by their ways of using language, in real time. There are security questions whenever new kinds of information are made available, so such maps should be abstract. The most valuable feature of such a "map" of connections, though, is the ability to then see who's NOT connecting, the isolated constituencies.
You'd see what conversations are intense in one group and missing from another, say between Twitter and the local newspaper as one possible divide., defining two communities with differing values and interests. That would be a great tool for understanding a society, and a great tool for social activist groups, letting them see how to stop "preaching to the choir", for one example. It wold also give them insight into the words and interests of the groups they need to connect with, but hadn't known how. Seen that way it's a "partnership tool", allowing people to see through the silo walls just enough to make some connections.
More examples, links, applications & … stories Continue reading 'Big Data' and the right to human understanding. →