______________________
Offering a true measure of economic sustainability,
internalizing the costs of externalities caused by delivering world GDP,
initially using shares of GDP to measure shares of GDP impact responsibility;
potentially making the world economy 100% accountable.
It's the "right way to make money",
taking responsibility for the true shares of our costs to the future.
Investing and doing business in the common interest, 
…calls for balancing costs and benefits, no longer just counting operational impacts locally as before, adding up only the impacts over which we have direct control (and can't hide).   Now we need to do impact accounting inclusively, combining in one account both direct operational impacts and direct economic demand impacts estimated as our global shares of the GDP impacts we pay for.   That's the essential step to inclusive accounting, and balancing our benefits from GDP with our real shares of responsibility for the whole economy's accumulating GDP impacts.  It's needed to guide our choices for moving toward a sustainable future.
To apply it we need to recognize that the supply-chain and service-chain impacts are a *shared responsibility* of the those managing the operations the result from, and the economic demand caused by paying for them.  Now the World SDG offers a scientific method for measuring the responsibility of economic demand.  Businesses and investors need to make sound sustainable decisions about supply chains reaching around the world, and need accurate information on what is being paid for and profited from to do that.  Consumers, shareholders and regulators can then also make sound decisions about what the markets are profiting from.  For the glaring cases, regulators could variably tax the profits from dangerous impacts, funds to be transferred to subsidizing the profits for scaling up alternatives, making the investor and buyer jointly responsible with the seller for the important side-effects of their economic services.   In principle both buyer and seller are co-equally responsible, liable for long term costs of short term profits, and for being transparent.  This way of doing the accounting would help pave a clear path ahead for the economy of the future.  06/26/17, 11/5/18
______________________
Updated Preamble to the 2014 UN Proposal
Following these notes is the original text of the World SDG proposal, to the UN Ministerial "Open Working Group 7" and the UN NGO Major Group and its Commons Cluster, for negotiating the global Sustainable Development Goals (SDG's).  It offers a "whole system accounting" method to give all stakeholders the same transparent information on measurable Environmental, Sustainability and Governance (ESG) impacts of the economy, to help guide economic choices for our future.  What makes it work is a new scientific method for much more accurately distributing real responsibility of economic decision makers for their decisions.   That new science, for how the world economy works as a whole, is what allows all stakeholders to see their own and each other's real scale of impacts on the whole caused by their economic decisions.  It becomes a learning tool for then guiding our choices for the benefit of the whole, creating a holistic awareness of what's at stake for consumers, business, investors and governance, and guide efforts for achieving the SDG's.
Latest 2016 research statements, The links below are to recent UN Statements regarding how our standard ways of measuring sustainability are very selective, and leave the great majority of economic impacts on our future uncounted[1,].  My recent video comment to the UN [2,] on this grand accounting problem is in the webcast of its high level political policy forum for sustainable development (HLPF), its July 11 Session 4: Fostering equitable growth and sustainability . Watching the hour of statements from many experts, countries and organizations will show you how the UN works, and avoids discussion of our ever expanding impacts.   My statement is at minute 0:40:40, and others by Youth, Women & Indigenous Major Groups are at minute 1:09:00 to 1:21:00, and quite excellent too.
Our modern environmental accounting standards were based on ancient habits of not counting things we can now measure the effects of. The is largely limiting the information given decision makers to LOCAL impacts, and leaving uncounted their real shares of the GLOBAL impacts. These categorical omissions from what is counted assure that businesses, investors, government and consumers  will make sustainability decisions quite unaware of most of the impacts their decisions will cause.  What is excluded also tends to be the more neglected and disruptive of our accumulating economic impacts on the earth and society, and so excluding consideration of them in making the decisions that cause them. So sustainability decisions to maximize profits can also be maximizing neglected impacts too!!!
Details of what SD metrics don't count ImpactsUncountedl.pdf
Video of UN HLPF comment on Growth & Impacts Uncounted 11 Jul 16
Why a World SDG?  
We've never had a meaningful balance sheet for the earth, but new science and technology now makes it possible.  Our accounting methods started from doing local accounting of impacts, and so didn't take a whole system view, and that's still the case.   So leaving them out of consideration means it's only slowing the whole economy that slows its increasing whole effects that are continuing to destroy the earth.
I)  The standard way 'sustainability' is now measured uses "selective accounting" rules, for addressing ESG impacts, for people, businesses, cities or countries or policies.  It's to count things almost entirely only for what each one directly manages.   That counts what each planning group would immediately care about, but it ignores the often much larger remote effects of their commerce on others and the planet, a very deceptive one sided view.   For businesses energy use, for example, what is counted is only the energy within its operations, for its equipment and the material uses it manages, or directly traced to them.   Even though doing that takes a great deal of effort, it arrives at a total that is highly inaccurate and misleading, due to the more dispersed categories of impacts uncounted.
II)  The most general exclusion is of all impacts of financial choices, all treated as 'zero', though also very clearly resulting in what is paid for and profited from, by consuming all the services of the economy remotely.   The largest part of that exclusion is the financial choice made by businesses to pay their own people, and so economically causing the consumption. Business use of public and private services, and paying investors are also excluded.  Also excluded are all those categories of paid services impact for business supply chains.  So given that we are now relying on environmental accounts for saving the earth, it's evident that no one before had been checking what decision makers would be told they were making decisions about.
III)   To make real decisions on sustainability decision makers would need to accept co-equal responsibility for their choices to request, pay for and profit from their share of impacts for delivering their share of GDP.  Because our responsibility for what we see happening around the world is not traceable you need to count it statistically, and the new research makes that relatively easy.  It gives co-equal responsibly for directing the work of a business supply chain with the operations of the supply chain.
The original research (3, 4) found the whole supply chain energy consumption and CO2 pollution of 5 times what the Life Cycle Assessment (LCA) or GreenHouse Gas (GHG) "Scope 1&2" metrics would count, using a wind farm business with heavy technology as model.  For less for businesses using less heavy technology, the true impact might be 10 times what is counted, with the more disruptive remote impacts going completely uncounted.  The old rules were inherited from practices for simplifying accounting and ignoring things that were hard to count.  It reflect the oldest of old habits of thinking, of economies working with separate parts, when since Adam Smith everyone has known they work as a whole.
IV)  The World SDG proposes a data network giving access to a transparent inclusive accounting of measurable ESG impacts, a data platform.   The starting point is a scientific method of dividing up shares of known impacts of the whole economy, for which any part would be responsibility.  The baseline for estimating a share of economic responsibility is the decision maker's share of the economy, initially counting every share as "average", and then differentiating if more information is available.   So as an impact calculator, any person, business, or country would enter their "income" and first see a display of the known global impacts for that share of world GDP.  It would be for helping them choose how to invest their time and money, and guide policy.  As research develops, ways to depart from average and take credit for lessening or compensating for impacts would develop.
The principle strategy for the World SDG is to improve the decision making regarding investments, thinking of "investment" more holistically, as both "cultural development" and trying "new directions for the economy".   For operating businesses its ESG balance sheet report would be published along side its annual financial balance sheet report. All stakeholders could view the same "best available information" on all impact factors.   When a new investment proposals want public recognition and perhaps qualify for support, they'd go through public reviews.  First would for general scientific and economic feasibility, then financial, and then for cultural acceptance and political commitment.   From initial to final reviews it would proceed as a "learning practice" going from early concept to final implementation stages.  More successful proposals might be seen as "transformational" and become a teamwork of all the stakeholders, not just the initiators.
Our main sustainability impact metrics (2)
LCA (Life Cycle Assessment) accounts for the impacts of recorded uses of technology and materials by individuals and businesses

but not the impacts of OTHER spending and economic choices

EF (ecological footprint) measures our traceable use and flows natural and renewable resources

also not the impacts of OTHER spending and economic choices
The World SDG method combining the omitted economic impacts with scientific measures  (3)
EI (economic impact) measures accumulative responsibility of participants in the economy for shares of global ESG impacts of GDP, assumed to be proportional to shares of GDP until improved information is available.

Share of GDP is a reliable measure of our use of the economy, on the currently reliable assumption that the measured economy works as a whole, based on the highly regular relationship seen in the first figure below, of a constant ratio of constant whole system growth rates for GDP, Energy & Energy Efficiency.
Also see the Addendum – Background on the Science and references (4, 5a,b)
______________
Preface
Why a World SDG is both possible and needed is because our world economy works as a whole.  We need a truly global way of understanding the impacts of our decisions, to crate a "Knowledge Commons for Sustainability".  We recognize that every part contributes to the whole and no part can operate without the whole.  The surprising result of the research is how reliably any share of GDP is likely to be "average" and pay for about the same share of world GDP impacts (4).   1) It first comes from how widely distributed consumption spending is, then 2) how widely money from any expense is distributed in the global economy, to all income levels within all kinds of businesses, as it is passed down a supply chain(5a,b).   It then also relies 3) on how truly global and competitive economic markets and services are, with all parts being disciplined by the same competitive standards for profiting from the resources everyone has access to.   So the baseline assumption that shares of GDP pay for the same average share of GDP impacts is both necessary as a default choice and likely to be accurate.  Making decisions on how individuals and the world can depart from average would then become the focus.  
Everyone could then understand their own benefits from the economy and how they compare with the global impacts of delivering them, seeing the simple facts in a broad context.  For example, a 6 oz (180 cc) glass of wine for $10  seems like a small impact.  As an average share of GDP what we find is $10 is quite likely to have an "average climate impact" of .45kgCO2/$ = 4.5kg for $10 = ~10lb x 16oz = 160 ozCO2 [2006 data] (4).  So the weight of CO2 consumed would be ~27 times the weight of wine.   The catch is that spending $10 on anything else would be the same.  How we use any part of our incomes would be close to having an average share of CO2 AND other global impacts of the economy as a whole, soil loss, deforestation, environmental and cultural disruptions etc.  [for 2016 data due to inflation and efficiencies impacts per $ are ~66%]
So the World SDG accounting model lets you: 
Compare

our shares of World GDP benefits

 with 

our shares of 

 its measurable Ecological Societal and Governance (ESG) impacts

.  

Using

"shares of the whole" as a common unit of measure

 for responsibility for the whole

by aggregating

reliable

 measures of human impacts and risks to our future, including direct financial 

liability

 if there are good estimates

 

using the sound initial baseline assumption of "average responsibility per share" pending more complete accounting.
It would provide an accurate accounting for the modern world's survival on earth.
[ed 8/23/16] 
… a scientifically combined balance sheet for financial and ESG factors,
so people can better understand our economic choices.  
___________________________
.
A World SDG
A World SDG  is a "commons approach"
Full accountability for the rising economic costs of an unsustainable future
Finance motivated to invest in the SDG's close to our hearts.
An integrated balance sheet of local and global responsibilities for integrated implementing of SDG's.
New science makes it possible to give those who profit from growing our costly economic impacts the information they'd need to understand their growing global liability. What would be more profitable choices for all can then reverse that. It's shocking, really, when one finds what a $1 dollar share of GDP (where the averages apply) is responsible for, as a $1 share of today's economy's fast growing impacts.   Every average $1 of GDP is responsible for close to 1lb of CO2 put in the atmosphere!  So in a sentence you just replace "dollar" with "pounds of CO2" to speak about the climate impact of normal earning and spending.   For a consumer with a $50k income, the climate impact is 50k pounds of CO2 per year!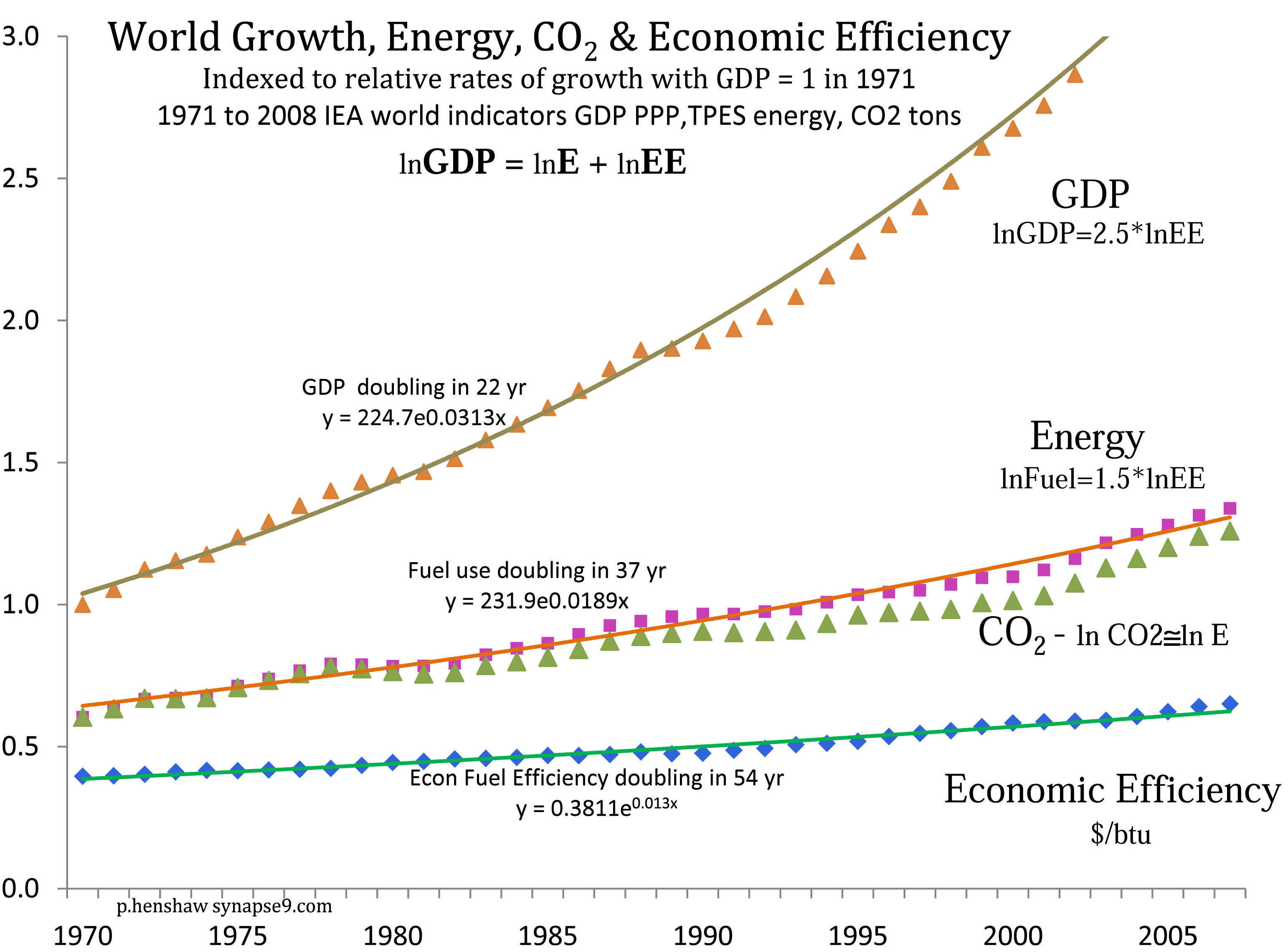 Continue reading A World SDG – global accounting of responsibilities for economic impacts →