Report I. (below) 18 June – Comment to UN organizers of Final Report on MDG's in dialog with Major Groups –  MDG solutions are not designed to hold, because the goals were defined as performance metrics not cultural growth and development.  JLH
Report II. (above) Comment to UN President, Member State Delegates and UN SDG agencies, on the UN Sustainable Development Goal Progress Reports of UN Agency and Stakeholder Groups – UN Development Goals… Leave out the common needs for a world that works as a whole:
______________
1 Jul 13 – Report II.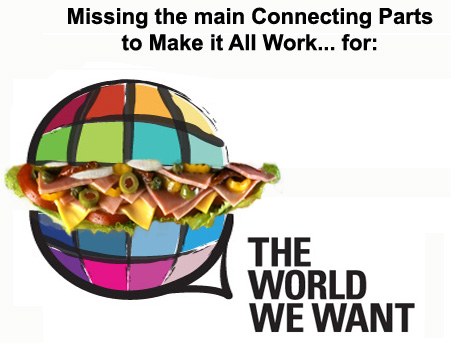 Left out are the deep common interests we ALL share, a secure world working together as a whole.
The progress reports on the UN's Sustainable Development Goals display an inspired cultural image of the future, but tragically omit the most important practical necessities of sustainability. Over time the discussion has drifted, toward being only about sustaining ideal economic development, quite overlooking the conflicting critical tasks of sustaining the Earth. It's been thrilling to observe the process of dream weaving online, and in the many meetings I've attended at the UN.   There's clearly been a massive response from the global social networks, and an eagerness to build a new vision for our future. The vision we see forming is highly impractical though.   For me, as a natural systems scientist who understands the implications, it has been extremely painful to watch as the discussion proceeded, with the critically important steps of sustainability being consistently left out.
Continue reading UN Development Goals… leave out Common Needs →