That's something of a trick question, actually, as throughout history the natural world has had a "made up" appearance, and people have struggled a lot with establishing whether any perception they have is "real" or not.
People have created a great variety of ways to say that nature is a projection from "the mind of God", in one way or another, for example.   Modern science represents nature as a projection from the "invariant laws" that evolved from a starting point in "the big bang" beyond our view.  That's almost as unsatisfying as the religious view, though.
Lots of people have noticed how very strongly people influence their own perception of reality, resulting in our own views at least being largely just a "human mirage" created by each observer.    The philosopher/scientist, Gottfried Liebniz pictured a complex image of nature as composed of self-defining worlds that are whole and imutable unto themselves, sometimes pictured as mirror balls, that he called "windowless monads".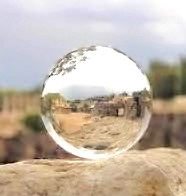 Another approach combines parts of all the others, by allowing each to have some variety of its own "built in mistakes".   Most of what our minds are able to conceive of nature is rather imperfect, including our belief in "idealized realities".   They could be as full of mistakes in our own thinking about them as any other, and overlook the complexities of the real natural world and reflect just going overboard in simplifying things.
A "combined view" would retain the perception of the views of individuals being naturally subjective, somewhat like mirror balls of perception which reflect their "own system's internal logic".   What a camera sees is always colored by its own lens.   From that starting point a learning process would let them discover some of the important gaps in the initial natural view of reality our minds create for us.
Much the same applies to mathematical models.  Once you have the view of reality a model represents, reflecting the question asked that generated it, then you can "peer into the matrix" of how nature's far more complex and changing other ways of doing things affect it. Continue reading Where do you find the natural world?? →