The trick is that there are two ways to do that. 1) you can add the money you earn from investing money, to increase what you then reinvest, so it multiplies what you take out (to put back in to take out more), or 2) you can use the money you earn from investing to take care of the things your investments built, or anything else.
Some links to other discussions of it are below, and a request for your comments.
Here's an excerpt from a Facebook exchange. It goes another step in explaining why this particular difference, using profits from investments to build more and more to profit from, or to care for things, causes major confusion in our modern world.  We want both, definitely want both!   But they're mutually exclusive and there's a kind of "deadline" for making a choice that most people, for some reason, would quite prefer to ignore, as if there was no choice to be made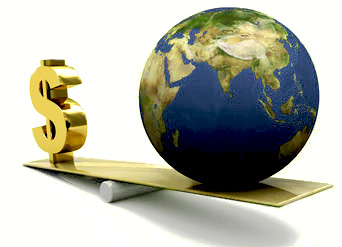 ______________
Jessie Phyllis Rose Henshaw

 

Speaking of money… Doesn't "inequity" come from the wealthy PUTTING MONEY IN TO TAKE MORE OUT (and so to then put even more in to take even more out)? It *seems* fair… WHEN IT STIMULATES FASTER GROWTH, but that isn't determined by people, but nature is it?

 Helene Finidori

 

That's a great statement Jessie. Could we say faster extraction? Also well I guess many want to put some input into something to get a little out (think of mom and pop savings for retirement). The question is to what limit… Could you plug this somewhere on the pattern language site? Because this is typically the 'more of the same' that any new solution would like to avoid…

Jessie Phyllis Rose Henshaw

 

Yes, I'll put it there. If I've finally said it so people would ask questions, like you just did, then I'll need help expanding on it so I don't lose people with the details. The issue is *the balance* between the strains on nature and people and the increasing scale of the whole system.

If it were a policy decision, it would be to "stop counting on an ever bigger windfall from the future". The default way to do that would be to ask everyone to plan for a future of "pay as you go" and people with large investments to use their profits, primarily, to heal the strains on the commons instead of continuing to invest their profits in expanding our burdens on it. Mom & Pop's savers tend to do that anyway, so no policy required!
Please add comments on what puzzles you about it, your creative questions or observations. What should we do with our money.   The earth commons we are part of has the profits from a hundred trillion dollars to think about how best to invest, and all the people who expect it to just keep multiplying forever to buy in on the plan too!
Challenging Puzzles and Propositions
"Pattern Languages" give meanings to patterns in nature, theories, relationships or experience, but we often don't know quite how. Like, we all tend to consider our own conscious view of things to be the world we and everyone else all live in… even though everyone is making up their own view of that. That kind of real world doesn't fit into any simple explanation, of a world in which everyone is seeing a world that is in large part a reflection of themselves.  It creates a lot to untangle.
__________________
1) On my research notes Journal "Reading Nature's Signals" I've discussed several times how JM Keynes foresaw a need to face this choice.   What makes it a "wicked problem" is partly the struggle it takes to think about the world economy as a whole system, this choice as between patterns of individual choice making for the whole, for the commons as the resource every part needs more than any other.
2) I also have a page on which I discuss it in terms of this nice diagram, for the whole relationship between money and us and the earth, which might help too, called "Why finance has a bigger appetite than the earth".